Last year was incredible for architecture all around the world. Amazing structures were constructed, India unveiled the tallest statue worldwide, Skyscraper constructions went through the roof, it was an overall overwhelming 2018. However, the new year will surely come with promising ideas! Check out the list we've prepared for you for the best buildings to look forward to in 2019!
Beijing Daxing International Airport, Beijing
Currently under construction and set to open in October, this 7.5 million-square-foot terminal will serve 72 million passengers a year by 2025. Designed by Zaha Hadid Architects, it was inspired by traditional Chinese architecture and is set to appear ahead of its time. Its unique shape that comes from the undulating folds in the vaulted roof are designed to fill the space with natural light.
Central Park Tower, New York
Described as the world's skinniest skyscraper and the tallest residential building in New York, this structure is expected to be one of the most impressive buildings in 2019.
Under construction on the so-called Billionaire's Row in Manhattan, 11 West 57th will offer uninterrupted views of Central Park and the Manhattan skyline.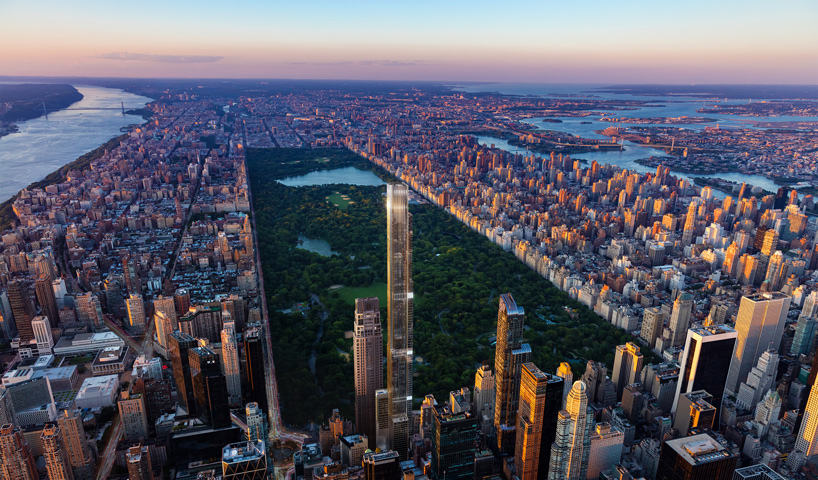 Learn more about Central Park Tower on our previous blog post here!
Wuxi Taihu Show Theater, China
This striking theater was inspired by the country's largest bamboo forest located near its construction in Wuxi, China. Its shade canopy represents the forest's natural awning of leaves, while slender white columns, resembling bamboo, wrap around the building's perimeter. This highly praised and expected structure is due to open around the end of the year.
Vessel, USA
Heatherwick Studio's new project, located in the rising Hudson Yards development on Manhattan's West Side, is an eccentric tower made out of 154 staircases. Designer Thomas Heatherwick said that "The honeycomb-like structure will offer visitors new views and perspectives of each other".
Under, Norway
Located in Lindesnes, Norway, Under is constructed to be Europe's first underwater restaurant, as well as the world's largest. Sitting 16 feet beneath the surface of the North Sea and Designed by Norwegian firm Snøhetta, the 110-foot-long structure will be able to accommodate around 100 guests across three floors.
This structure, expected to be open near spring, will be able to offer an amazing panoramic views of the surrounding waters. The architects have used reinforced concrete and acrylic windows to withstand water pressure and the harsh conditions of Norway's coastline.
Kistefos Museum, Norway
This spectacular twisted building by BIG will be a new art gallery in the Kistefos Sculpture Park near Oslo. Described by studio founder Bjarke Ingels as an "inhabitable bridge", the gallery will span a river.
Academy Museum of Motion Pictures, California
The museum, located in L.A.'s famed Miracle Mile, is expected to be open by the end of 2019, and will become home to the world's premier movie museum.
Designed by Renzo Piano, this structure will provide visitors a quiet space to ponder and discuss the impact and role of film in our culture. The new museum will feature a 1,000-seat theater and terrace which will allow elevated views of Hollywood.
National Museum of Qatar
Designed by Jean Nouvel, this structure offers the world something it's never seen before. Each part is connected to mimic a desert rose, while the interlocking disks are nearly the same beige as the surrounding desert. The space will house artifacts related to themes that have come to define the country.
Leeza SOHO, Beijing
This amazing twisted glass tower, standing 623 foot tall, is said to become the world's tallest building once competed this year. Designed by Zaha Hadid Architects, this central space curls up through the building's interior, allowing natural light to enter from a variety of angles.

The Shed, USA
Designed by Diller Scofidio + Renfro and Rockwell Group, this expandable cultural venue will offer spaces for exhibitions, performances and events. Located on Manhattan's West Side, this structure will is being built alongside the High Line.